(2009-02-05)
Witajcie kochani. Na wstepie przepraszamy
za tak dluga nieobecnosc i oczywiscie bardzo dziekujemy za odwiedzinki na naszym blogasku.
Z Polski wrocilismy we wtorek w nocy.
Mamusia musiala ogarnac troszke mieszkanie , bo mielismy dzis kolede i juz jestesmy z Wami.
W Polsce nie pisalismy bo sami wiecie jak to jest. Nie bylo nas bo lofrowalismy po znajomych i rodzince, albo byl ktos u nas i nie bylo czasu na pisanie.
A powiem Wam, ze dzialo sie nie malo. Ogolnie rzecz ujmujac to wszyscy stwierdzili, ze przechodze ciezki okres i jestem bardzo nieznosny.
Dzien u dnia ryczalem i krzyczalem ja chce do domu do anglii do tatusia. Mamcia to juz mnie suchac nie mogla. Vania zdazyla sie przyzwyczaic i dobrze czuc to czeba bylo wracac.
Mamusia najchetniej wrocila by spowrotem do polski. Dzisiaj zafundowalismy jej taka noc i dzien, ze ma juz dosc. Caly dzionek ryczelismy a Vanki to nawet na sekunde nie mogla odstawic.
Jak przyszedl ksiadz to mama mu powiedziala i ten nas wykropil woda swiecona. Vani jakby sie
polepszylo a ja nadal ryk.
Chyba ta pogoda tak na nas dziala. Sniegu ful ale sie uradowalem jak zerklem rano przez okienko. Zjedlismy sniadanko i poszlismy lepic balwanka.
Teraz juz sobie smacznie spimy, a
mamusia ma chwilke by popisac. Mamy troszke do nadrobienia na waszych blogaskach, wiec juz tam mykamy.
Kolorowych slodkich i bajkowych snow.
Komentarze (1273):
napisz komentarz

(2009-01-23)

Wczoraj mielismy dwa swieta "Dzien dziadka" i moje imieninki.
Dziadzi z tej okazji chcemy zlozyc najlepsze zyczenia duzo zdrowka i pieniedzy.
Dzisiaj mamy święto dziadka,
okazja niezwykle rzadka.
Ja dziadziusia kocham szczerze,
w jego słowa zawsze wierzę.
Mój dziadek ma swoje zdanie,
budzi we mnie zaufanie.
To naprawdę trzeba przyznać,
dziadek fajny jest mężczyzna.
Kiedy dzień dziadka zaświta,
wiązanką kwiatów go witam.
Bądź zdrowy dziadku kochany
i bądź zawsze razem z nami.
A teraz o moich imieninkach. Dostalem pieniazki i prezenty. Mamusia kupila mi karabin, pistolety z czapka policjanta i kajdankami, telefon
, mlotek i wiertarke. Ale sie ucieszylem niesamowicie.
Jutro przyjdzie do mnie ciocia z Filipkiem bo wczoraj byla a mnie nie bylo w domku bo poszedlem sobie do Oliwki.
Dzisiaj natomiast poszedlem sie bawic do Brajana mojego kuzyna.
Do poludnia z mamcia Vania i ciocia Kamila poszlismy do miasta. Mamusia kupila mi nocnik, ale ja i tak niechce na niego robic.
Latalem na majtach i mialem wolac a ja nic i dwa razy nasikalem babci na podlage i raz zrobilem kupe. Ale mama mi wtukla na pupe i mowila masz wolac ! Chyba oszalala?
zle mi w pampersie! nie to o co chodzi.
Z Vaneska poszlismy do kosmetyczki przebic jej uszko, bo kiedys zgubila kolczyka i po dwoch dniach uszko jej zaroslo.
Troszke poplakala ale na szczescie to tylko jedno uszko. Teraz ma dwa rozne kolczyki.
Niusia to mala ryksa. Caly czas placze i niechce do nikogo isc.Wszyscy wolaja na nia mamy cycek
. Ale dzis zauwazylismy, ze juz troszke zaczyna wszystkich poznawac i jakby chetniej idzie i sie bawi. Ale tylko uslyszy mamy glos i juz koniec niema zmiluj sie mama musi ja wziasc.
A teraz z innej beczki. Dokoncze Wam moja niespodzianke. A zatem dokladnie w dzien babci z rana ubralismy sie i rano pojechalismy do drugiej babci. Pukamy do drzwi
a babcia nie mogla uwiezyc. Bardzo cieszyla sie z takiego prezentu.
Powiem Wam, ze jestem tak zalatany i zabiegany, ze niemam czasu na nic. Nie nudzi mi sie tutaj. Mam tyle kuzynostwa i znajomych ze non stop cos sie dzieje.
Teraz juz mykam.
A Wam moje drogie dzieciaczki zycze udanego weekendu i oczywiscie slodkich snow.
Komentarze (96):
napisz komentarz

(2009-01-21)
21 Stycznia Dzien babci !
Żyj nam Babciu lat ze dwieście,
boś najlepsza w całym mieście.
Gdy za bardzo rozrabiamy
pod twe skrzydła uciekamy.
Ty nas zawsze wytłumaczysz,
wszystkie błędy nam wybaczysz.
Bądź więc zdrowa uśmiechnięta
- tego życzą Ci wnuczęta.
Witajcie kochani po krótkiej przerwie. Już wkoncu moge zdradzic Wam moja niespodzianke.
A zatem w poniedzialek póznym wieczorem to jest o 22:30 zapukaliśmy do drzwi babci, I krzyczymy "NIESPODZIANKA".
Wyobrazcie sobie jakie bylo zdziwienie i mina babci. Oczywiście sie poplakala ze szcześcia, że nas widzi.
Nikt nie wiedział o naszym przylocie do Polski. To bylo szokiem dla wszystkich.
W ten sam dzien zrobilem psikusa i pokazalem na co mnie stac zrobilem kupke i wysmarowalem babci drzwi i siebie oczywiscie hehe.
Poszedlem spac bardzo pozno mimo to, że bylem zmeczony. Najważniejsze,że mamusia jest szcześliwa.
Dokladnie opiszemy Wam jutro wszystko bo teraz jedziemy do wuja Darka, bo on jutro wylatuje do Irlandi. Mial miesiac wolnego i czas laby mu sie skonczyl.
Kolorowych i slodkich snow. PS pozniej wpadniemy na wasze blogaski.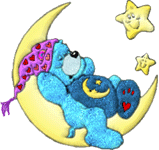 Komentarze (42):
napisz komentarz